A Friend in Need...
---
So, you've decided you're going to breed dogs;
You think it's as easy as falling off logs!
You breed your first litter and in the beginning
You have lots of luck and you feel that you're winning.

With the more dogs you breed, and the more pups you whelp
Comes the realization that you really need help.
Just when you're feeling that all's going well
You find yourself faced with a litter from hell!

And who do you turn to when things don't go right?
(It often takes place in the still of the night).
It's surely your Vet who will help you get through
This litter...and others...and other things too.

What's wrong with this puppy? What's wrong with the dam?
Your Vet knows the answers and helps you keep calm.
He listens to you and he helps you to learn
And he himself learns 'bout your breed in return.

When he's checking your puppies, to give them their shot
You sometimes will notice he's smiling a lot.
You feel really good that your pups make him smile
And it makes any dark days of breeding worthwhile.

Don't get the idea that everything's wrong.
Most litters are great, and the puppies are strong.
They're true to the standard and cute as can be
And it's hard to decide "which one's for me".

If you're new to breeding, I'll give you a clue;
There's no end to learning what you should do.
There's studying bloodlines and health of the breed;
You never are lacking for good books to read.

But be realistic, you can't know it all
And you must have a friend to be there if you fall.
You've got to have someone to be there for you...
I have a great Vet....and I hope you do too!

. . . . . .Norma Dirszowsky

Not to be reprinted without permission of the author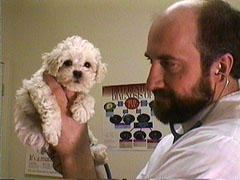 "The Checkup"
[Welcome] [Home] [The Bichon Frise - A Profile] [Normandy Bichons - Our Special Links]
[Normandy Bichons - Over The Years] [Puppies - See How They Grow]
[Rings and Things and Our Website Awards] [Links to Everything Bichon - and More]