RICK DONER, DVM
Rick Doner is a "farm-raised boy", who at the age of 12 decided that he wanted to be a Veterinarian. He graduated from Ontario Veterinary College with the Class of '84, at which time he began a 7-1/2 year association with a rural veterinary practice, dealing in both farm and small animals. In 1992 Rick moved on with his career and purchased Glenroy Veterinary Clinic in Beaverton, Ontario.
Dr.& Mrs. Doner
In 1995, Rick (together with his wife, Dale) designed and built a new clinic on their property in Beaverton and the practice was renamed Beaverton Crossroads Veterinary Services. The new location specializes in small animals and boasts a full service, two veterinarian clinic with full diagnostic equipment and surgical services, as well as grooming and boarding.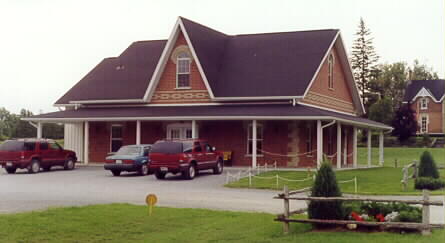 Beaverton Crossroads Veterinary Services
(Clinic foreground/Doner residence far right)
---
When Bill and I first moved to Udora (just northeast of the big city of Toronto) in 1987, one of the first things on the priority list was to find a good veterinarian. After calling all I could find in the area, I opted for one a few kilometers away, which dealt in both large and small animals. This is where I first met Rick. Although there were other veterinarians connected with that practice, it evolved that Rick was the one who looked after all my Bichons. In 1992 Rick purchased Glenroy Veterinary Clinic, in Beaverton, Ontario, and it went without saying that I remained his client through that move and on to Beaverton Crossroads.
Why do I travel that extra distance? From a simple office visit to a midnight C-section or pulling a puppy at 3:00 a.m., Rick has always been there for me! We have both learned together about this wonderful breed, the Bichon Frise! Rick is more than a veterinarian....he's a friend.....and A Friend in Need, is a Friend Indeed!
Norma Dirszowsky, Normandy Bichons
[Welcome] [Home] [The Bichon Frise - A Profile] [Normandy Bichons - Our Special Links]
[Normandy Bichons - Over The Years] [Puppies - See How They Grow]
[Rings and Things and Our Website Awards] [Links to Everything Bichon - and More]