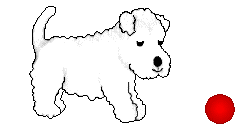 We continue to enjoy life with Stuart. He has a couple of favourite times
of day, the morning when we first get up and the evening when the kids
go to bed. We usually get up about an hour before the kids and have our
coffee and read the paper. During this period Stuart LOVES to sit on our
lap while we're reading the paper. During the summer, Glenn would sit out
on the back deck drinking his morning coffee with Stuart snuggling on his lap.
At nightime, Stuart loves to cuddle with the kids before they fall asleep...
We keep new bones for Stuart in a bottom drawer in the kitchen.
Stuart of course knows this drawer. When he wants a new bone he goes to the
drawer, tries to get one of us to go to the drawer and he dances.
He is just like a little kid in a candy store.
People (dog groomer, vet, neighbours) often comment on what a wonderful
temperament Stuart has and, of course, we tend to agree! Stuart has been in
very good health over the past year.
Our family is doing well. Both (the kids) take turns feeding
and walking Stuart. Glenn is doing well and keeping busy with his work.
As for me, about a year ago, I decided to take some time off and simply
enjoy life. Stuart loved the fact that I was around a lot more.
So, Norma. We all thank you so much for giving us Stuart.
He has brought so much joy into our lives.
Debbie