Ever wonder why reputable breeders become upset with
puppy mills, backyard breeders and pet stores?
Here is a good example!
This is NOT what a Bichon Frise should look like!
SAD, BUT TRUE...
This was sold (and not cheaply) as a Bichon Frise puppy in a pet store.
Who bred this poor animal for sale via a pet store....we'll never know!
We can only hope that they are no longer breeding and the pet store in question is no longer in business!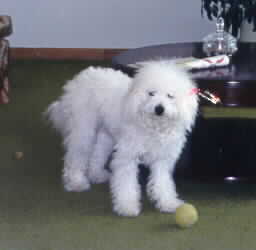 Although greatly improved after months of tender loving care, this animal can hardly claim to be within the breed standard.
The above two photos are the property of Merville Landry, of New Brunswick, Canada and are not to be copied from this website
without his express written permission. Contact with him may be made via
Normandy@BichonFrise.com
Photos Copyright 1998 Merville Landry - All rights reserved
---
NOW COMPARE IT TO A BICHON FRISE WITHIN THE BREED STANDARD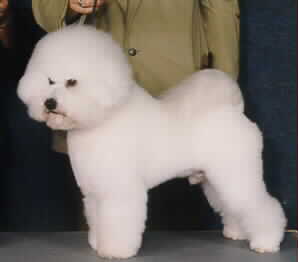 That's what it's all about folks! This is just one example of why reputable breeders sometimes come on strong when faced with poor breeding practices which may destroy our breed! Hope this helps you to understand!
Copyright © 1998 Norma Dirszowsky, All Rights Reserved